A glance at the city center
We welcome you to the friendly location of S Hotel Boutique. With below information we would like to suggest to you short cultural walks to discover the many urban stories our city has to offer for both day & night walks.
AROUND THE S HOTEL BOUTIQUE
Day Life & Night Life
We are located right in the heart of the so called historic center of Thesssaloniki, where the traveller can experience beside's its modernity also the "bell époque" side of town. Trendy Boutiques blend with an aroma of history and Greek Cuisine can be found in so many variations, from modern Sea Food Restaurants to the traditional Greek Tavern, all right infront of your hotel door.
The next lying "Platia Eleytherias (ie Liberty Square) was designed in 1870 and was for decades the city's heartbeating spot for commerce, shipping and cosmopolitan vibes of Thessaloniki. In 1911 the " Stein's Oriental Stores Ltd" is established with its distinct green see through sphere in its dome, perfectly preserved up today. Here you can also find the " Cercle de Salonique" , the famous club – gathering in its bar / restaurant and library –  the city's business & art elite of the early 20th century.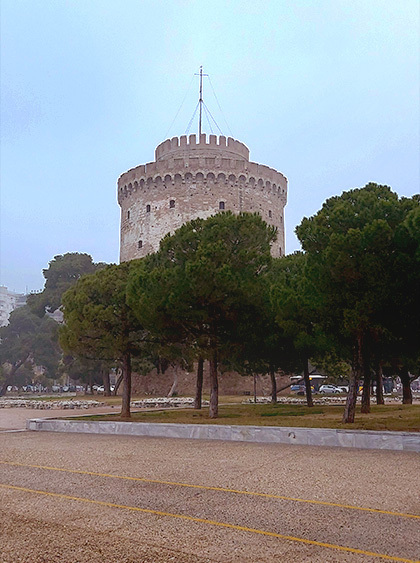 Only few steps away your will discover the famous " Upper" & "Lower" Ladadika district with its coloured paved pedestrian streeets, numerous restaurants & bars and a feeling of essence of the colonial past of the city.
A distinct vibe of an goneby age where influences from Jewish, French & Italian are still felt today, with an amazing walk through its numerous small walkways.
To the East you will find the buzzling Aristotelous Square, which was designed in 1971 by the French architect Ernest Ebrar, combining Venetian, Byzantine  & Arabic elements in its numerous hemi-spherical buildings.
Finally a relaxing walk through the modern Thessaloniki Port Pier is only 1 minute away. Visit the Cinema Museum or Photography Museum of Thesssaloniki or simply enjoy the breathtaking colours during a sunset in our beautiful city.
History of Thessaloniki
Thessaloniki has many stories to tell and the first one begins from the very moment of its foundation in 316/315 BC. With 'blood' royal, since the new city took its name from Thessaloniki, the sister of Alexander the Great and daughter of the King of Macedonia Philip II, developed very quickly, due to its prominent geographical position, in one of the most important ports, economic and commercial center of Macedonia and the Balkan Peninsula, which has advantages more than 2,300 years. The numerous monuments of this long course are indisputable witnesses. Open and accessible, they live with the inhabitants and tell stories from different cultures, religions, times.
Find all the interesting things you can do, suggested itineraries, cultural events, local markets and much more happening in Thessaloniki.
SEARCH